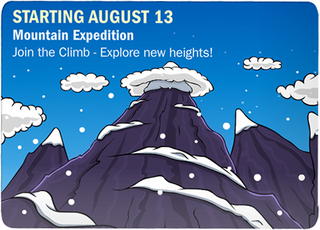 The Mountain Expedition is an upcoming event in Club Penguin. It will begin on August 13, 2010. Not much is known about it. It was confirmed in the 250th issue of the Club Penguin Times.
It is possible that the Tallest Mountain will reappear.

It may also be similar to the tallest mountain in Festival Of Flight.

There will be stamps for the party.
It may have a room that will stay like the Hidden Lake and Mine Cave.
It will have 1 party room as shown in the advertisement.