Club Penguin: Game Day!
is a new game for the
Nintendo Wii
. It is primarily for multiple players. The game can be played by up to 4 people at a time. There is also a single player mode. The game was put on the ESRB site in April 2010 and officially announced on June 10, 2010.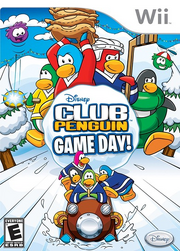 The game will include innovative ways to connect with the online Club Penguin. Like in the DS games, players can upload coins earned in game to Club Penguin, but the new game will take the elements of online-offline connectivity even further by also allowing players to synchronize their in-game penguins and achievements with their online penguin accounts. The What's New Blog claims that it is multiplayer, however does not confirm any online multiplayer. Club Penguin: Game Day! trailer.
In the game, players will create and customize a penguin and compete in a variety of challenges. Challenges include Java Sack, Fast Freeze, Sled & Slide and Sumo Smash. Each time players beat a challenge, they conquer some territory on the island. The ultimate goal for players is to conquer as much territory as possible.